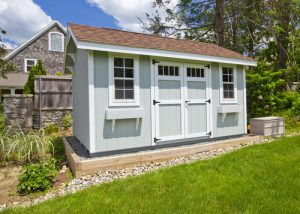 So, you're in the market for a storage shed for your property. It probably seems as simple as choosing an aesthetic that you like and installing it in your yard, but there's more to it than that. Considering a few key things before purchasing will make the process go much smoother, and you'll end up with a shed that makes a positive impact on your property's practicality and value!
Here are some things to think about:
Shed Design vs. House Design
While their main purpose is storage, your shed is more than that. It makes a difference in the overall appearance and feel of your property, and should be styled in a way that works cohesively with your home's design. Pay attention to the siding material on your home, the shape of the doors and windows, and even the roof material. Choose a shed that shares some of these qualities, and you will be much happier with your purchase in the long run.
Integration into the Landscape
To make your new shed fit in more seamlessly on your property, consider it as a part of the landscape. Flower beds and plants can help a shed blend into your yard rather than sticking out like a sore thumb, much in the same way landscaping around a home makes it more aesthetically pleasing.
Consider Building Codes and Restrictions
You should always familiarize yourself with your local zoning ordinances, building restrictions, your property's deed restrictions, and anything of that nature. Some areas require a building permit for even a simple storage shed, and your building code may determine where you can place your shed on your property and what siding materials are acceptable.
Will Your Shed Be Large Enough?
The last thing you want to do is go through the effort of purchasing and installing a shed on your property only to discover that it isn't large enough for everything you need to store. Make sure the unit is wide enough to accommodate the largest piece of equipment you plan to store, and that the door design is wide enough to allow you to get things in and out with ease.
Choosing the perfect shed for your property can seem like a daunting task, but the expert staff here at Superior Sheds is here to help. For any questions or information about our different shed options, give us a call today at 386-774-9861.