From metal and wood to canvas, carports come in many materials; however,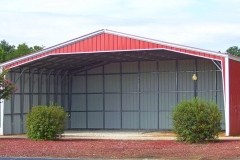 steel carports offer the most durable protection. Depending on where you live, a steel carport can protect any and all of your valuable outdoor assets from severe weather such as a heavy snowstorms or strong summer heat. Whether you are looking to protect an antique automobile, riding lawnmower, trailer, or even a boat, a steel carport is the most suitable option. In addition to storage, a steel carport provides the added benefit of more exterior work space for outdoor projects.
Here are some other great reasons why you should choose a steel carport.
The following benefits of a steel carport will help you decide why investing in a steel carport over its wooden counterpart is the right option. Below you will find some great benefits when picking a steel carport.
1. Price – Purchasing a steel carport is the most affordable option and will, therefore, save you the most money as opposed to purchasing one made of metal, wood, or canvas. Because of its low price and durability, investing in a steel carport will also add value to your property.
2. Multiple Design and Appearance Options – New developments in design have now allowed manufacturers to make steel carports customized to your liking which includes templates, finishes, and color. These options mean that your steel carport can be made to complement your existing home.
3. Maintenance – As opposed to wooden carports, steel carports call for much less attention and care. A major disadvantage of a wooden carport is the extra attention and maintenance it requires. Routine self-inspection will have to be done to spot rotting, distortion, pest destruction, and other complications. If any of these problems exist, the wood will require replacement. Wood also requires painting to keep it looking prime and breaks down over time. Conversely, low-maintenance steel carports are built to last.
4. Portability – One great advantage of having a steel carport that you won't get with a wooden carport is the ability to move it from one spot to the next. A steel carport is great for immediate protection if you plan on relocating down the road. Steel carports are not only the strongest and most convenient option; they are the only portable option.
5. Easy to Assemble – Steel has many light weight pieces which is why out of all types of construction material, it is the one with the highest power to mass ratio. This light weight option makes the same day assembly of a steel carport as efficient as possible.
Contact Our Steel Carport Experts
Whether you're looking for a shed or carport, Superior Sheds offers their expertise in all types of specialty outdoor structures. Our experience staff will assist you in outlining your ideal structure to accommodate your style, budget, and needs. Call us today at 1-877-439-7433 for details on the types of carport materials and colors available to you or email us regarding your steel structure requirements.