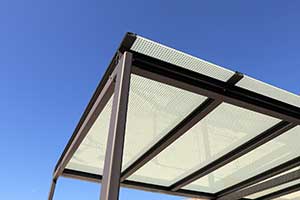 From sweltering summers to heavy rain seasons, the Central Florida outdoors can get pretty rough. Such harsh elements can lead to heat damage, hail-inflicted dents, and advanced weathering of exterior belongings—especially cars, trucks, and other vehicles. Therefore, it's important to protect your automobiles with sturdy shelter in order to maintain their appearance and value. A simple and effective solution is a high-quality metal carport.
3 Benefits of a High-Quality Metal Carport
Metal carports are high-quality structures that are optimal for exterior vehicle storage. Some of their benefits include:
Durable protection.

Metal carports can endure extreme weather conditions and last far beyond other outdoor structure materials such as wood, which is too susceptible to fire, moisture, and rot. Furthermore, a metal carport isn't susceptible to the destructive damage that termites often cause to wooden structures. With great resistance to problematic elements, a high-quality metal carport will stand the test of time for years to come.

Installation efficiency.

Advancements in metal production mean efficiency like never before. All metal carport pieces are prefabricated making their installation a fast and simple process. With a metal carport, you can have your outdoor equipment covered and protected in a matter of days or even hours, depending on your needs.

Eco-friendly qualities.

Going with a metal carport is better for the environment and allows you to leave a smaller carbon footprint. By foregoing wooden carport construction, you'll be saving a lot of material, equipment, and time on the build process.
Protect Your Vehicles With a Superior Metal Carport
When it comes to sturdy, high-quality metal carports, look no further than Superior Sheds. Our structures are perfect to protect your:
Car or truck
Boats
Jet skis
Motorcycles
RVs
Tractors
Central Florida's Source for Superior Metal Carports
Superior Sheds provides high-quality metal carports for outdoor storage and covered protection. Our experienced staff can work with you to custom design and install the perfect structure to fit your style, budget, and needs. Whatever needs protecting, Superior Sheds has you (and your vehicles) covered. For more information on the types of metal carports we carry, call us today at 1-877-439-7433 to discuss your specific building requirements.