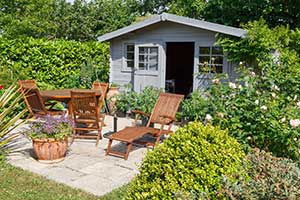 When most people think of a backyard shed, they imagine lawnmowers, tools, cobwebs, and bugs, but backyard sheds actually have the potential to be so much more. In fact, with the right tools, time, and tips, you can transform your backyard shed into an outdoor living space where you can relax, entertain, or get some work done.
The Benefits of Upgrading Your Backyard Shed
Upgrading your shed into an outdoor living space can increase the livable square footage of your home for a relatively affordable price. By transforming your backyard shed, you can create a unique space for entertaining friends and family, a place to practice your hobby, or just a space to kick back and relax.
6 Tips and Tricks for Turning Your Shed Into an Elaborate Outdoor Living Space
Whether you want to turn your shed into a craft room, she-shed, man cave, or home office, there are several tips to help you upgrade your space:
Give It a Fresh Coat of Paint

You can match your shed's color to your house's exterior or give it a color palette all its own.

Seal the Cracks

If your shed was previously only used for storing tools, you might need to seal it to keep the bugs and dust away.

Install Windows

To add natural light to your backyard shed, you can try installing a skylight in the ceiling to complement the traditional windows in the walls.

Install AC/Heating

If you intend to use your shed year-round, you might want to consider installing air conditioning and heat. Don't forget to add insulation to your shed to keep it cool in the summer and warm in the winter.

Add Furniture

If you want to entertain in your new outdoor space, you'll want places for people to sit, so you might want to add a couch and a couple of chairs, as well as a table.

Add Plants and Décor

This is the fun part! You can decorate your backyard shed however you want to in order to create the space of your dreams.
Transform Your Backyard Shed Into an Outdoor Living Space
If you're ready to turn your shed into an elaborate space for entertaining, work, or relaxation, rely on the professionals at Superior Sheds. We can help you design, construct, and install the perfect outdoor space to meet your needs. For more information on our services, contact us by email or call us at 1-877-439-7433.