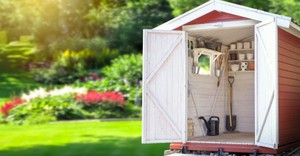 If you are looking for safe and reliable storage for your tools and equipment, you should consider an outdoor shed. Spacious and versatile, outdoor sheds are incredibly handy additions that can also aesthetically complement your home. However, it's very important to first consider the best material to use for your outdoor shed's construction. With factors such as cost, durability, and the weather, it's worth taking a closer look at the variety of materials that may best suit your outdoor shed needs.
3 Common Outdoor Shed Materials
Outdoor sheds are available in several different materials, each with their own qualities and attributes. As with any decision, it's important to weigh the pros and cons of each to arrive at the best material selection that benefits you:
Wooden Sheds. The classic, traditional choice, wood is the most aesthetically-customizable choice as you can paint a wooden outdoor shed to match the color of your home. That being said, wood is the most expensive choice of material. And although very strong, wood can be vulnerable to harsh weather and insects.


Metal Sheds. Made from either steel or galvanized aluminum, metal outdoor sheds provide durability at a very cost-effective price; although, metal is susceptible to rusting and denting. However, if cost is paramount, then metal might be the best material for your outdoor shed.


Vinyl Sheds. Also known as resin or plastic outdoor sheds, this material is one of the newest on the market. Quickly gaining popularity, vinyl outdoor sheds are lighter and stronger than wood. Nearly maintenance free, vinyl is also highly resistant to cracks, stains, and other such damage. The only disadvantage with vinyl shed material is that it doesn't have the same load bearing power of wood and metal.
Only The Best Outdoor Shed Materials
Whether you choose wood, metal, or vinyl, the team of experts at Superior Sheds has the inventory, experience, and collective knowledge to best assess your outdoor shed needs. With our shed material options and our professional outdoor services, you'll be well on your way to a durable and functional outdoor shed of superior quality.
Choose Your Superior Outdoor Shed
Superior Sheds develops all kinds of specialty outdoor structures including sheds and carports. Our experienced staff can help you design the perfect structure to fit your style, budget, and needs. For more information on the body, roof, trim, and colors we carry, contact us by calling 1-877-439-7433 or email us to discuss your specific building requirements.