Once the warmer air begins to come around, you may want to add a new addition to your outdoor living space where you can read, relax, and rest. Both gazebos and pergolas provide ample shade and protection from intense sunlight. Furthermore, new gazebo and pergola designs offer an aesthetic flourish to your property that can accent the rest of your yard. However, in order to pick the perfect structure for you, you may want to consider and understand some of the following differences between gazebos and pergolas.
Facts About Gazebos
Mostly built of wood and often located in a private or public garden space, gazebos are used as a place of relaxation. First developed in the late 18th century, these large, sturdy structures were used as a way to search for intruders. Gazebos now offer homeowners a peaceful spot to enjoy their day and create new memories with their families. Traditionally open on all sides, gazebos can now be screened-in for your protection from insects, rain, and other outdoor elements. A screen tent can also function as a gazebo that adds some spark to your living space. With aluminum frames, such gazebos can be easily put together in just a few hours.
Facts About Pergolas
With its post or pillar structure, supporting crossbeams, and open concept,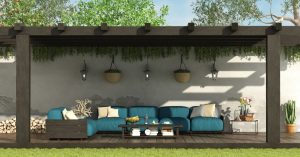 pergola provide shaded outdoor sitting area that freely accommodate fresh air ventilation and natural vegetation growth. Normally used in gardens, they are more popular in warmer climates because they provide a space for vines and other plants to grow on and entangle the pergola — creating even more shaded space. Newer pergola designs include coverings that are still able to provide shade but also let some sunlight shine down during your afternoon celebrations.
What are the Main Differences Between Gazebos and Pergolas?
When it comes to these two structures, there are three major differences:
Gazebos are round while pergolas are a square type shape.
Gazebos provide a roof for shade while pergolas have an open cross beam design.
Gazebos are free-standing structures that rest separate from your home while pergolas can connect two structures or stand on their own.
Superior Gazebos and Pergolas at Great Prices
If you need assistance deciding which option is best for you, the experts at Superior Sheds can help. We design a wide variety of gazebos, pergolas, and sheds to help complete your perfect outdoor living space. Our experienced staff is always on hand to help you in designing a structure that fits your style, budget, and needs. To find more information about the body, roof, trim, or colors we carry, give us a call today at 1-877-439-7433.