Gazebos and pergolas are g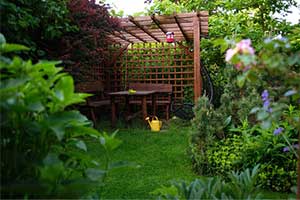 reat additions to have in your backyard. They are both beautiful, decorative structures that provide a varied amount of shade and protection against the sun and weather where you and your family and friends can rest and relax outside. However, deciding on whether you should get a gazebo or pergola can be a difficult decision. To help make your decision easier, here are a few things you should consider regarding the benefits of gazebos and pergolas.
The Benefits of Pergolas
The most common features of a pergola include its open structure and lattice framework with vines or other climbing plants growing between its beams. A pergola's structure typically consists of cross beams and vertical posts that let the air, rain, and sun flow through; however, most of the protection and shade that pergolas provide come from the plants and vines that cover it rather than the cross beams. Materials used to make pergolas include aluminum, brick, fiberglass, and wood.
Usually installed above a deck, pergolas are popular with those who have a green thumb and like being surrounded by foliage. They provide comfortable spots to relax outside during the warmer seasons or on breezy days where both wind and sunlight can freely blow through the pergola's open frame.
The Benefits of Gazebos
Decorative pieces that look best surrounded by grass and flowers, gazebos are freestanding outdoor structures with a round or hexagonal shape topped with a domed roof. They usually hold around eight to 12 people. Materials used to make gazebos include aluminum, hardwood, and vinyl.
Compared to pergolas, gazebos are more enclosed structures; however, since gazebos have a roof and low walls, they offer better protection against the sun, rain, and outside climate to make spending time outdoors more enjoyable. You can also run electricity to a gazebo to add string lighting or speakers or install a bug screen to protect you and your family from insects and other outdoor pests during late summer evening sits.
Should You Buy a Gazebo or Pergola?
When it comes to investing in a gazebo or pergola, gazebos are often favored more because they provide a more enclosed and covered space to have in your backyard where you can enjoy the Florida weather or a good book outside without having to worry about getting hit with direct sunlight or rain.
Your Local Gazebo Installation Experts
If you're interested in buying a gazebo for your home, the experts at Superior Sheds can help. We provide all kinds of sturdy, durable and high-quality gazebos for comfortable outdoor or backyard living. Our experienced staff can help you design and install the perfect structure to fit your style, budget, and needs.
To find more information about the body, roof, trim, or colors we carry, contact us by calling 877-439-7433 or email us here to discuss your specific building requirements.