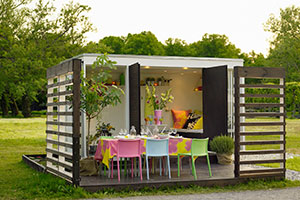 Outdoor sheds can serve a variety of purposes for you and your family as they can ease storage and clutter issues and free up backyard space for entertaining and recreational play. While buying a shed may be a simple process, purchasing a superior, long-lasting shed of high quality takes a little bit of thoughtful consideration. That is because sheds come in a range of shapes and styles to best suit different needs.
In order to buy the perfect shed for your home, it's best to narrow down exactly what you're buying it for. Here are a few reasons why you should purchase a shed from the shed-building experts at Superior Sheds.
Increase Your Home Storage Capacity With a Superior Shed
Nobody likes clutter. Having extra boxes, household equipment or leftover holiday decorations lying around can leave your house in disarray. Instead of shoving it into the corner of your closet, attic or garage, consider putting it in a shed instead. You'll be able to store your excess things in a clean, safe environment while making more room for yourself. It's a great way to organize the items you're not quite ready to part with yet while maximizing efficiency.
If you're looking for an exceptional storage shed, consider Superior Sheds' Bungalow model. Its aluminum walls are durable to stand against Florida weather, and it comes in various styles to suit all your storage needs. It can even be ventilated and have a full electrical setup to accommodate any equipment.
Create Your Own Creative Space With a Superior Shed
If you have a hobby that keeps you busy during your free time, then having a dedicated personal space to engage in that hobby can help you properly relax and unwind. A shed from Superior Sheds will allow you to put all your creative materials in one place.
Our sheds work great as separate creative spaces that can be customized to be just as unique as you. You can create whatever environment you want, leading to increased productivity while you enjoy your favorite pastime.
Superior Sheds' Country Inn or Cabana models are the perfect type of shed for your dream workshop.
Country Inn sheds are available in stucco or wood grain finish to provide a rustic feel to your backyard. It can also come with an optional porch add-on to provide quaint extra sitting space.
Cabana sheds will fit right in with your Florida backyard with their optional Bahama-style windows. Large and stylish, the Cabana model shed is big enough to fit your every creative need.
Protect Your Belongings With a Superior Shed
Leaving expensive equipment lying around in your yard or garage puts it at a greater risk of being stolen. Bicycles, kayaks, lawnmowers, and tools are prime targets for thieves to swipe. Additionally, become damaged if exposed to the elements and dangerous to young children if they're left unsupervised. Locking such items up in a safe and secure Superior Shed gives you peace of mind that your equipment is protected from bad weather, burglars, and curious children.
For the proper storage of large, pricey equipment or even vehicles, our double- or triple-wide options are best. These sheds can give you more than 700-square-feet of storage, keeping everything you treasure safe from nature's worst.
Purchase Your Shed from Superior Sheds
Superior Sheds is committed to bringing you outdoor sheds of the highest quality and variety. Our expert staff of professional builders is ready to connect with you to discuss our wide selection of available shed models and design options that are custom-made to fit your needs.
If you're ready to begin building your custom shed or want more information on our styles, roofs, colors and trims, contact us online or call us today at 1-877-439-7433.