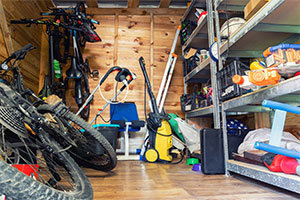 A home can get crowded and start looking like a dump if you do not have a convenient space to store all of the things that you are not using at the moment. A great way to remove some of the clutter that accumulates over time is to invest in a shed. In addition to stowing away all your tools, equipment, sports gear, decorations, etc., a shed can also add additional value to your home that you may not be aware of.
Here are four reasons why a shed would be a great addition to your home.
1. Sheds Offer Extra Storage Space
Everyone would like more space, and a shed is a perfect solution—especially if you have unsightly and bulky equipment like lawnmowers, garden tools, or pool equipment laying around your backyard. With the extra storage space of a shed, you get more room to breathe and can create an area in your backyard where you can stretch out and enjoy your surroundings.
2. Sheds Provide Better Outdoor Organization
A shed allows you to keep all of your items in one organized, easy-to-find location. By using wall-mounted hooks, shelving, or storage racks, the inside of your shed could look like a home goods store that houses all your garden tools, power tools, and supplies so that you can easily access them when you need them.
3. Sheds Can Be a Multipurpose Space
A shed can be much more than just a place to store away objects. For example, you can transform your shed into a little art studio where you can invite friends to a mini art gallery. Your shed could even become your own game-room/movie theatre, a kids' playroom, or a small, cozy guest room for when friends or family visit.
4. Sheds Can Boost Your Home Value
A shed can do wonders to the value of your home and could add up to $15,000 to your property's price tag. To new home buyers, a shed offers:
Extra existing storage space that will no doubt help during the moving process
A private office, playroom, or a multipurpose space for whatever they see fit
An attractive space that complements the home by adding a lovely and comforting aesthetic
The extra storage space is appealing to homebuyers of all ages. Young families will appreciate a shed because it gives them more room as they begin growing their families. Older couples will enjoy the extra space to store items they've kept over the years.
A well-built and maintained shed of superior quality will make your house look more attractive and undoubtedly convey to potential buyers that you cared for your property, and that is often enough to sell a home above the asking price.
Invest in a Superior Shed for Your Home
If you are interested in getting a shed for your home, then contact the professional builders at Superior Sheds. Our experienced staff can help you design and install the perfect structure to fit your style and budget needs. Whether you need outdoor storage space or want a place to relax, we can provide you with a high-quality shed made of wood, vinyl, or metal. For more information on the body, roof, trim, and colors we carry, email us or contact us today at 1-877-439-7433.